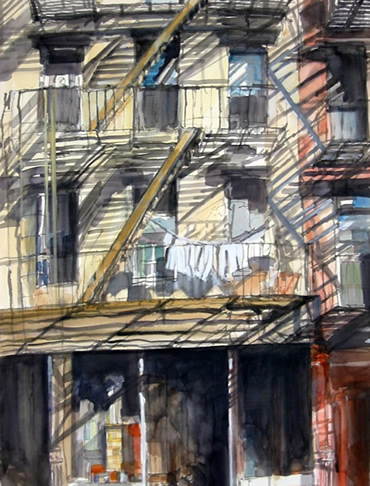 Tony Wells is a figurative painter producing complex images with abstract qualities. His images grow out of strong draughtsmanship and structure. He views drawing and painting as a matter of giving the viewer an intense and vivid experience.

A contributing factor to the nature of his visual philosophy is rooted in a life long interest in engineering with a particular emphasis on aviation, aviation history , motor racing history and vintage motor cycles.

His boyhood was dominated by aeromodelling and the demanding problems of lightweight airframe construction.

Enter, in early teens, modern jazz with its complex improvised structure moving from one abstract idea to another. building and moving through an often lengthy sequence of conceptual thinking. This was a revelation and remains so.

Tony sees a close bond between Jazz and image making. So much so that he rates musicians such as Pharoah Sanders, Bill Evans, Keith Jarrett and Charles Mingus as inspirational. High on the list of visual influences would be Frank Brangwyn, J.C. Leyendecker, Will Eisner, Eric Parker, Robert Rauschenburg and Peter Lanyon.

He refuses to acknowledge the separation of art and design categories and favours a total integration of disciplines.

His range of subject matter is wide and covers anything that would create an opportunity to produce the kind of images that fits within his philosophy. He favours both studio based and direct observation painting. Tony follows multiple pathways from objective study to narrative depiction. He particularly likes expressing an evocation of period with a sense of time and place.